We can't stop the refugee crisis that has forced millions of women to flee their homes out of fear for their lives. But we're not helpless either. We can help some of the women who arrive to weave a better future for themselves and their families – futures full of hope and purpose.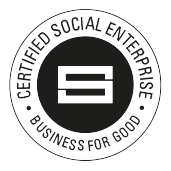 At Love Welcomes we provide skills training and employment to refugee artisans. We are committed to paying our makers above the real Living Wage.
In our working week we make sure we have time to support our team with financial, language and digital literacy training.
Everything sold by Love Welcomes benefits women fleeing violence and poverty. So, every piece is a tiny part of a much bigger story. A story of hope, how new skills can bring a steady income, so a better future awaits. With this amount of love and care, everything we make is beautiful. But it's also much more than that.
We can support and treat artisans and makers fairly and with respect. We're taking action to build a brighter future where humanity shines.